Original gift ideas for Christmas and Kings
Well, by now you will have noticed that some of the Christmas lights are up in our main streets all over the island, and some of the shops have decorated their windows or even put a tree up. Christmas is around the corner, and it's time to think of gifts. Both Father Christmas and the Three Kings are on their way, so start getting ready by ensuring that everyone at home has written their wish list!
In this post, we want to help you to find the perfect gifts for your loved ones this Christmas. We know that it's not always easy to get it right, but are sure that these guidelines will make it much easier. So, we've organized ideas into different profiles and concepts for you:
Gifts for "techies"
Gifts ranging from less to more
Gifts for someone moving house
Gifts that are always appreciated
Original gifts
Gifts for people who are handy at home
Gifts for "techies"
Technology is taking huge strides and any "techies" (technology fans) will appreciate you keeping this in mind and giving them the latest and most innovative products that we stock:
GARZA surveillance camera
To protect and monitor your home 24/7. You can watch in real time from the APP day or night, programme it to record, or for it to do so automatically when it detects movement.
Price: €49.95 - 2 units: €89.95
CECOTEC kitchen robot
The way to some people's heart is through their stomach! And they'll be drooling with what this kitchen robot can whip up. The MAMBO BLACK combines 11 kitchen devices and boasts 23 functions, with a really intuitive digital touch-screen.
Price: €199
INNOVAGOODS Digital Money Box Counter
For digital techies and anyone who knows how to save money digitally. The box has a digital counting system with an LCD screen. It can show you how much you have put in and how much you've saved. It also has a reset button for you to restart.
Price: €8.90
Gifts ranging from less to more
As we mentioned before, it's not always easy to find the right Christmas gift. In addition, we also need to consider our budget, which is why we've compiled a list ranging from less to more to make life easier for you:
Gifts for less than 15 euros
Secret Santa has become popular all over the world, which comprises of a fun practice of people exchanging gifts anonymously. Here are few great suggestions:
KOOPMAN kitchen scales
We've all got a bit anxious about eating proper food and looking after ourselves. So, weighing what we eat is a good way to monitor the calories we digest.
Price: €11.50
INNOVAGOODS posture corrector
Many of us spend a lot of time seated in front of a computer, and our position is not always right. We can suffer back and other health issues as a result, and this system helps to correct your posture.
Price: €13.50
INNOVAGOODS neck hug LED light for reading
Now, with this 4-LED bright reading light, you can enjoy your favourite book without other lighting. It's also perfect for use in the countryside, at the beach or anywhere else that's dark and you want to read, and makes a great gift.
Price: €5.90
Gifts up to 60 euro
Neither too small or too big, here are some gifts for less than 60 euros that will go down a treat. From electronic gadgets, useful tools for the home, personal care products or other day to day items.
NATURAL ESSENCE scent humidifier
Here in Menorca it's humid all year round. Sometimes it can damage fabrics and furniture. This humidifier is silent, practical and decorative, with 7 led lights of different intensities that also scents the air.
Price: €33.50
CECOTEC hand vacuum
Clean your car, carpet, sofa or armchair with this hand vacuum cleaner, ideal for both solids or liquids. No cables or bags and can go 22 minutes without charging.
Price: €45.90
Efficient Iron Bra griddle series
The perfect cast-iron griddle to cook meat, vegetables or fish in the best way, also usable in the oven at any temperature.
Price: €53.90
"Big gifts"
Here's a range of bigger gifts for those who've been good all year and deserve one! The perfect way to surprise someone special, leaving them dumbfounded as they unwrap it. Please see our suggestions for special and exclusive Christmas gifts below:
ROOMBA robot vacuum-cleaner
This is one great present with its own special name for this Christmas: ROOMBA. See how quickly it becomes practically another member of the family as it moves around the house and works out which sections need cleaning in an intelligent manner.
Price: €349
TAURUS coffee-machine
There's nothing light getting up in the morning with the comforting prospect of a good coffee to kick off the day. This TAURUS coffee-machine has its own milk-frother that also heats up. Gift a real treat this Christmas.
Price: €99.99
Liberty ironing steam press
The latest technology to achieve maximum efficiency when ironing. With a 2000-Watt outlet and 1.5 L water capacity in its tank.
Price: €149,99
Gifts for someone moving house
For anyone moving house who needs new material and/or furniture to decorate it with, buying them one of these products is a great way of helping them:
CECOTEC juicer
You can't go wrong with a good juicer in your kitchen so that you can prepare just the type that you like. The CECOTEC juicer had an adjustable pulp regulator and pressure lever to ensure effortless extraction.
Price: €34.90
TATAY shelf unit
A basic kitchen shelf unit that is really useful too. It has 3 shelves in imitation wood and can bear up to 30 kg. Quick and easy to assemble.
Price: €25.00
VERSA umbrella-stand
We never need one of these until it pours with rain and then we wish we had one! This umbrella-stand is available in two colours to adapt to the style of your home.
Price: €18.90
Gifts that are always appreciated
Sometimes opting for the classic items can be the best option. Some people don't know what to ask for so, to ensure that you give them something that you're sure they'll like and is right for them, we've compiled a list of some of our failproof products:
Set of 4 KOOPMAN glasses
It's always nice to be able to serve those gin and tonics in a nice glass, so 4 KOOPMAN ones make a great gift.
Price: €8.50
Efficient Plus Bra griddle pans
We tend to use pans a lot and, when not used and cared for correctly, they deteriorate and are no longer as good to cook in. So, giving a griddle pan as a gift is always an option that will be appreciated.
Price: €22.50
KOOPMAN bread-board
This is a perfect and useful gift. We need bread for most meals and never know where to cut it, and using a knife on your kitchen surface can damage it.
Price: €11.00
Original gifts
Here are a few more gift ideas to delight those recipients. Si no eres capaz de sorprender a una persona a la hora de hacerle un regalo, aquí te dejamos algunos productos para que le dejes con la boca abierta.
3 Claveles ham-stand
This is something that you sometimes mean to ask for yourself but never remember to in time. After all, you never know whether you might win a whole ham in a Christmas hamper, or just like to have one in to enjoy over the festive season. Either way, a good ham-stand is just what is needed to carve it properly.
Price: €26.50
INNOVAGOODS mop slippers
Keep fit and keep your floors clean at the same time with these slippers that have soles that mop and clean your floor. The sole pads are removable for washing.
Price: €8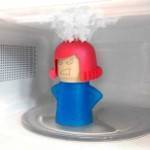 Microwave cleaner
Lots of us don't know that these items are available, but they actually feature in our catalogue. The first is very handy to keep microwaves clean.
Price: €4.90
Gifts for people who are handy at home
What's a handyman without tools? They spend all year fixing, repairing electrical appliances, changing hinges and handles on doors, windows… and they've helped you more than once at home too. Here are a few gift ideas for them:
WORX screwdriver
An essential piece of kit for all handymen at home. This model has a 1.5 Ah lithium battery and LED light to use as a torch where you're working.
Price: €39.95
KÄRCHER pressure-cleaner
Perfect for cleaning the exterior areas of your home such as terraces and the garden.
Price: €59.95
WORX orbital sander
One of the best sanders on the market for all sorts of DIY work at home, essential for improvements.
Price: €49.95
These are just some of the many Christmas gift items stocked at Comercial Jaype this year, and we hope that this post has helped you to select everything you need. Our friendly and efficient staff are always on hand to assist you in store, or you can contact us with any queries.
Seguir leyendo
More Consejos at Jaype Menorca